Stallions
*Figaro PASB
1971-1995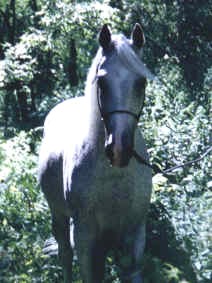 *Figaro PASB carries the blood of Polish foundation horses; Skowronek, Kuhailan Abu Urkub, Gazella II and Porta in the third generation of his pedigree. He was by Negatiw, one of the leading sires in Europe. His dam Fortunata was by the Polish derby winner Branibor, out of Forta, the most noted race producing mare in Poland.

Bred at Michalow Stud in Poland, *Figaro is one of the top racehorses of his time. His Race Record dominated European tracks from 1974-78. He raced 34 times, placed top 5 in all but his 1st race, won 13 firsts, 10 seconds, 5 thirds and retired sound. Then began a successful show and breeding career.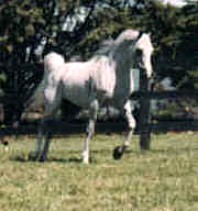 In 1980, he tied for world Champion Stallion with Alrex. He had 160 offspring in Europe; 20 were imported to the U.S. *Figaro has approximately 50 offspring in North America. Today they mark his success on the track and in the show ring. His imported son, *Nassar won 3 U.S. National Top Tens in Park. Click here for Complete List of Progeny

*Figaro passes on beauty and athletic ability, a laid back shoulder, a long, high set neck, straight legs with good length and bone density, added height and a great temperament. (Frozen Semen in storage) Click here for Pedigree Research
Firestreak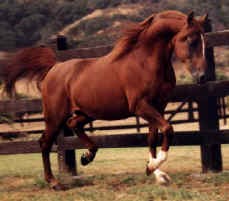 Over the years certain nicks become know for consistently producing quality. Among the most famous, is that of *Bask++ crossed with the daughters and granddaughters of Comet. This combination produced horses of unparalleled performance capability.

FIRESTREAK is a powerful example of this combination. He is by *Bask++, a stallion that had a very significant impact on the breed, and out of the Comet daughter Halali Enchanted. FIRESTREAK is a 3/4 brother to a long list of eminent horses such as Cognac, Gdansk++ and Gardenia. He carries the blood of many Polish greats close up in his pedigree.
Over the years FIRESTREAK excelled in Halter, Stock, and Western. His offspring are proven in Halter, Performance and on the track. His full brother is a leading sire of National show Horses.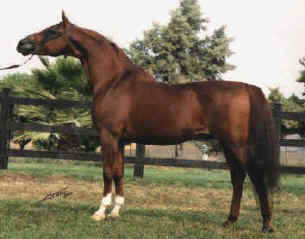 FIRESTREAK contributes a broad forehead, pretty eyes, a sculptured face, small ears and a fine neck to his foals, as well as a strong structure, an exceptionally laid back shoulder and an excellent hip.
Click here for Pedigree Research
Dexter EA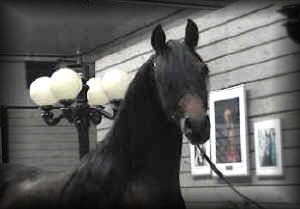 Dexter EA traces back to *Bask++ twice in his pedigree which would be an excellent cross for our Negative bred mares. Such outcrosses have produced many exceptional show horses and breeding horses, which is one reason why *Bask++ is still considered the most influential sire in the history of the Arabian breed in America.

Not many of his sons are left to continue his dynasty so we are now looking toward his grandsons. Dexter's dam was one of the highest priced yearlings to ever go through public auction. Her sire Fire Chief was considered one of the most beautiful *Bask++ sons. Dexter's sire is one of a valuable few, Pure Polish *Bask++ sons, and an example of the superb cross between the *Bask++ and Comet lines.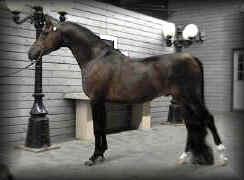 Dexter promises to be an excellent sire in the future. He is athletic, well conformed and pretty, not to mention gentle and intelligent. He is currently in Western Pleasure training and we hope to have him in the show ring in 2001.
Recommended Web Site;
reinback.com
REFERENCE PAGES FOR ARABIAN HORSES
Recommended Reading;
Polish Arabian Horse in North America Neil L. Wood / Hardcover