Breeding Stock
Click here for Complete List & Leasing Opportunities
Partial Listing Broodmares
Autumn Shadow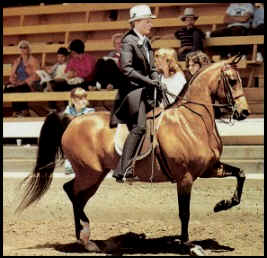 Autumn Shadow is a phenomenal mover. She can hold her audience at the edge of their breath as if each stride had the power to set her in flight. She has won numerous championships and top honors as an English Pleasure horse, carrying herself with an air of pride that sets her apart from every other horse in the ring. Her sire Bay El Bey++ was a National Champion Stallion and a Champion English Pleasure horse, many of his offspring have ranked as to show horses and gone on to become top breeding horses. So far three of Autumn Shadow's offspring have become English Champions and the other two have yet to be shown.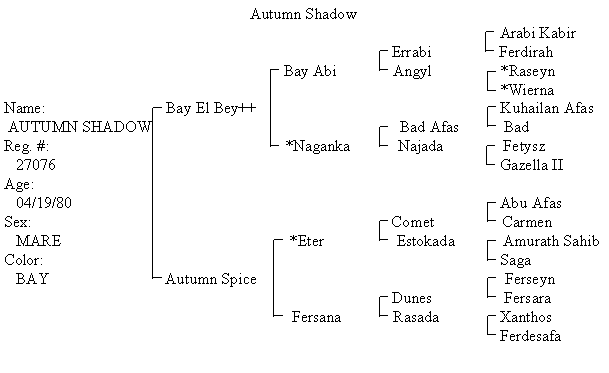 ---
Alove Affair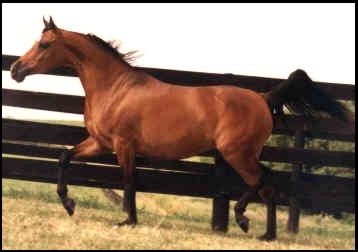 Alove Affair's sire Fire Chief was considered to be one of the most beautiful sons of the famed stallion *Bask++. The *Bask++ line is known to cross very well with *Raffles and Negatiw Blood. Such crosses have produced exceptional show horses and breeding horses. Alove Affair is no exception, she was one of the highest priced yearlings to go through public auction. Now she is a very elegant, pretty mare and a proven producer. She is trained Western for beginner to advanced riders.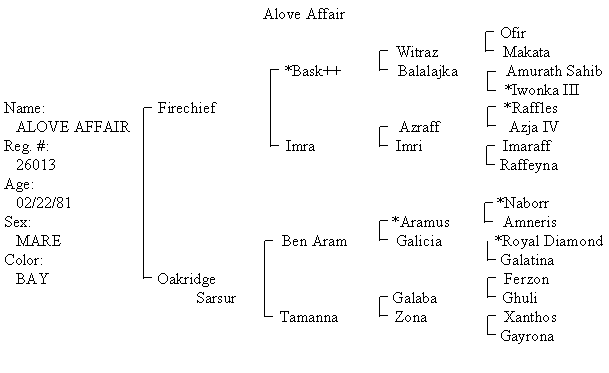 ---
BPL Figurine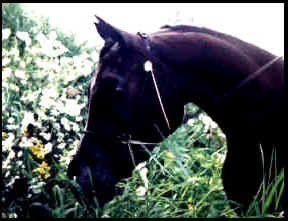 As pretty as her name, she carries herself with grace and presence. Classic elegance that will set her apart from the crowd in the future, whether it be in the show ring or Broodmare band. BPL Figurine has two crosses to *Bask++ on her dam's side which complements *Figaro's bloodlines very well. She is a full sister to BPL Gina Marie, but quite different in type. Although both have tremendous potential in halter Figurine is better suited for English Pleasure and Driving. Figurine is IAHA Breeder Sweepstakes nominated.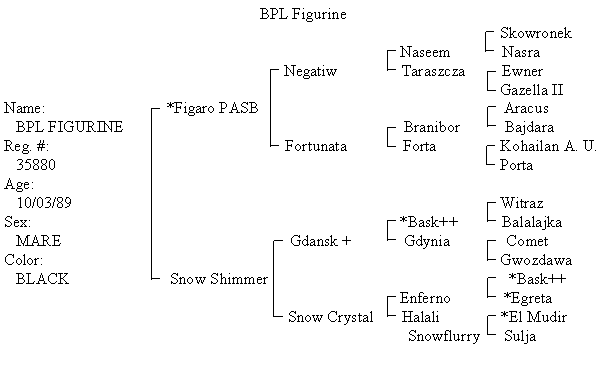 ---
EA Fira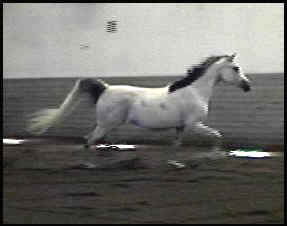 EA Fira possesses a fire and elegance that draws everyone's attention. She has an excellent shoulder, hip, and croup, an exquisite head and overall balance and type. Her sire Firestreak is one of a valuable few pure Polish *Bask++ sons, he is a 3/4 brother to such greats as Cognac, Gdansk++ and Gardenia. Fira's dam, Harlow, is a double Negatiw bred mare, a splendid cross with Firestreak's bloodlines. EA Fira has been shown once at one of the largest shows in Region 17 she placed Supreme Show Champion over all other divisions in halter. IAHA Sweepstakes nominated.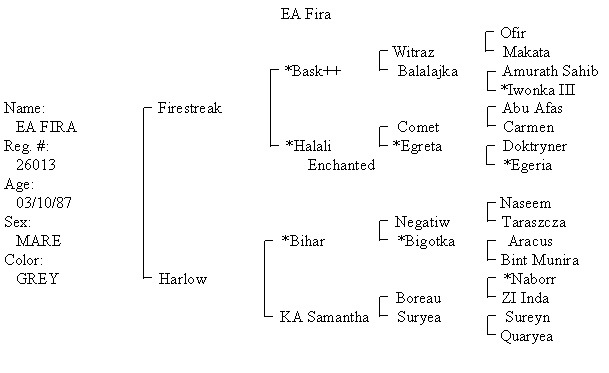 ---
BPL Gina Marie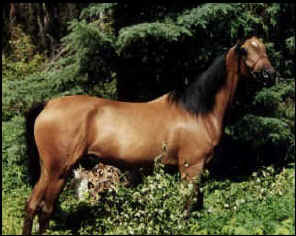 Distinctively *Figaro, she is quite likely do well as a halter or performance horse. BPL Gina Marie's dam is by the legendary Gdansk+, his sons and daughters have won numerous National performance honors and Snow shimmer's dam is by a 3/4 brother to Firestreak. This mare exemplifies the successful cross between Bask++ bred mares and Negatiw bred Stallions. She is started Western, is IAHA Sweepstakes nominated and has proven herself to be an excellent broodmare.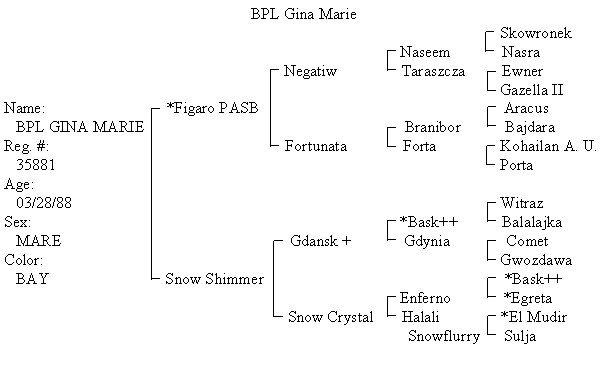 ---
Fionna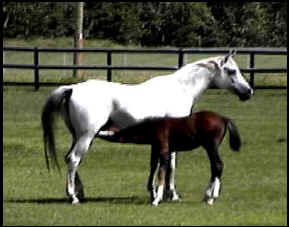 As one of the matriarchs at Excella and one of only two pure Polish *Figaro daughters, Fionna represents a valuable heritage. Out of the noted mare Halali Fantasia she is line bred to Forta and closely related to many Polish greats the likes of Fabiola and Fatma. She is pictured with her 2000 filly by *Fenix (Elf x *Ferezja). Fionna's grandsire El Mudir was a horse of extraordinary motion, while her grand dam Fortunka was a full sister to Equifor a chief sire in Poland.
Skowronek
Naseem Nasra
Negatiw Taraszcza Enwer Bey
Name: Gazella II
FIONNA *Figaro Aracus
Reg. #: PASB Branibor Bajdara
30565 Fortunata Forta Kohailan A.U.
Age: Porta
02/79 Ofir
Sex: Wielki Szlem Elegantka
MARE El Mudir Munira Kaszmir
Color: Cemira
GREY Halali Amurath II
Fantasia Amurath Sahib Sahiba
Fortunka Forta Kohailan A.U.
Porta
---
Elegra EA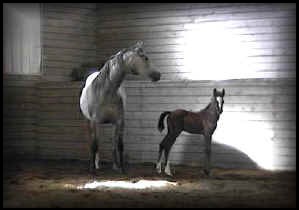 Elegra EA is of two pure Polish *Figaro daughters at Excella, chosen to continue his legacy. Pictured with her 2000 filly at side, she is balanced and correct. She has proven her value as a broodmare. Emanate as a fine broodmare was saga, who's line was widely developed through her daughter Canaria found in Elegra's tail female line through Gwara and in two other crosses in her pedigree. Gwara is one of three mares to prolong this precious line. Elegra's dam Grazioso Elegant is also a valued broodmare.
---
Falenska EA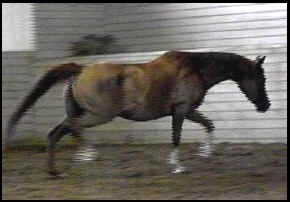 Falenska's dam is by *Maligg, U.S. National Champion English Pleasure horse. Her grand dam is by Gdansk++ U.S. National Reserve Champion and Top Ten Park horse, he is one of the best examples of the successful cross of *Bask on Comet daughters. This cross is again seen in Falenska's pedigree through Firestreak. She is passing on this Performance ability, already having made a valuable contribution to our breeding program. She has a great temperament and will be started under saddle in 2001.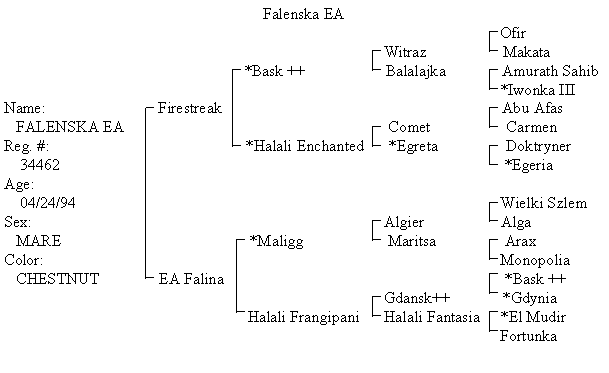 Falenska's 2000 Filly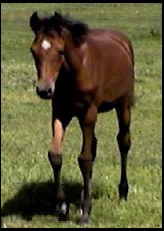 FILLY'S SIRE:
Witraz
Celebes Canaria
Mellon Mantyla Grand
Manilla
PB Alez Pohaniec
Probat Borexia
Alysha Alita Abu Ali
DAHS Ata