Excella Sales
Click here for Prices or to Print Sales List
Horse Trailer For Sale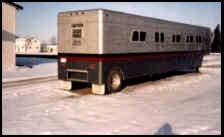 Dimensions of trailer are :

Width - 8' 10 1/2 "

Length - 40'

Height - 10'3" + 2" for vents
1984 McQuerry
This 9 horse (conventional load) converted into 8 horse slant load has been well looked after and is available for purchase.
---
Shadow March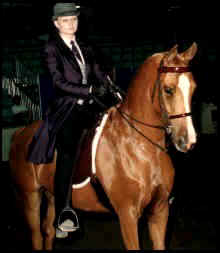 This individual has the talent to become an outstanding performance horse he has been shown three times in Open English Pleasure and won first and champion after only a few weeks under saddle. Shadow March's sire and dam possess extreme motion and have proven their capability as performance horses. As well, that same motion is found throughout both of their pedigrees. *Maligg was 1985 U.S. Top Ten English Pleasure horse and holds multi-championships in English and Pleasure Driving. Autumn Shadow has won numerous championships as well as Regional Top Five honors in English Pleasure at some of the toughest shows in the U.S. and placed second the only time shown in a driving class. "I have kept this horse for years in the hope that I might ride again because he is so talented and an absolute pleasure to train!" - Lisa Levasseur
---
Annabellea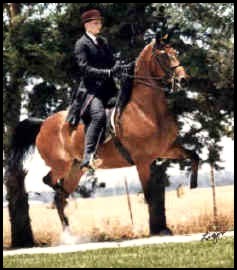 Annabellea's sire GA Serafey has held NSHR National High score Sire Award from 1983 up until 1987, naming him the leading sire of show winners four years in a row. Annabella does not need her sires introduction through, her own show record speaks for itself. In 1986, her first year, she was: champion in Open & AOTR Half Arabian English Pleasure at the AHA SVA Show in Santa Barbara, CA; Pacific Slope Champion Half Arabian English Pleasure; Region I top Five Half Arabian English Pleasure; Region II Top Five Half Arabian English Pleasure; Reserving Champion half Arabian English Pleasure in Pomana CA. Annabella was not show in 1987 and remained in training at Baywood Park Ltd. Already having proven herself, Anny could make an excellent English or Country Pleasure horse for the amateur rider.
---
Brazyn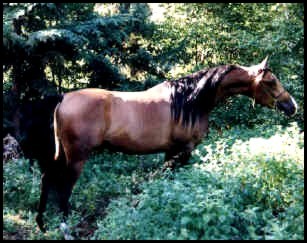 Brazyn is an exceptional horse; he is extremely correct and typey and represents the cross between Egyptian and Polish bloodlines. He has won many Championships in halter and is yet to be shown in Performance. He is currently in Western training and would be suited to an amateur rider. His sire *Bies (pronounced Bisk) was bred at Kurozweki stud in Poland. His first year on the track, out of 7 races he won 3 (including the prestigious Bask stakes), was 2nd twice and 4th once. He was also reserve National champion of Norway. Brazyn's dam, Brieah++( The Egyptian Prince x Dark Moon) was a U.S. National Top Ten mare. Out of the eight foals she produced, six are show champions and two have yet to be shown. She is the dam of 1989 National Reserve Champion Futurity colt.
---
Allana EA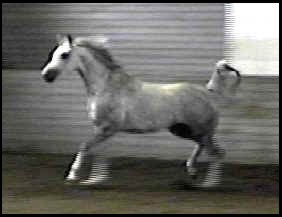 Much has been said throughout this site on Firestreak and his sire *Bask++ . Allana's dam is by the famed stallion *Bandos, a Negatiw son out of a full sister to *Bask++. Bandos is considered one of the all time greats, bred extensively in Poland and the U.S. Not far back in Allana's tail female line is Brieah++. Brieah++, her full sister, her sire, her dam and every other horse in her pedigree have established themselves among the most valued of Egyptian horses. Brieah++ is a National Top Ten Mare and has produced numerous National Winning offspring. Allana is a tall and graceful, she is very pretty and typical of her pedigree. She is currently in halter training and is being started Western.
Ofir
Witraz Makata
*Bask ++ Balalajka Amurath Sahib
Name: *Iwonka III
ALLANA EA *Firestreak Abu Afas
Reg. #: Comet Carmen
38250 Halali *Egreta Doktryner.
Age: Enchanted *Egeria
05/95 Naseem
Sex: Negatiw Taraszcza
MARE *Bandos Bandola Witraz
Color: Balalajka
GREY Bellogia *Morafic
Brieah Dark Moon El Hilal
Sura Gem
---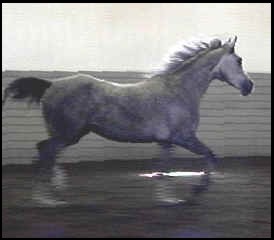 You can find information on Shadow's pedigree throughout our site. Besides her pedigree Shadow's best attribute is her outstanding temperament. One can not ask for an easier or more sound horse to work with. She is well started under saddle and has had lots of miles put on both inside and outside. She is currently being started in formal training for English and Country Pleasure. A number of her siblings are English Pleasure Champions, including her full brother. She is a little on the small side and could make an excellent mount for a junior rider!
Skowronek
Naseem Nasra
Negatiw Taraszcza Enwer Bey
Name: Gazella II
SHADOW DANSER *Figaro Aracus
Reg. #: PASB Branibor Bajdara
35689 Fortunata Forta Kohailan A.U.
Age: Porta
05/95 Errabi
Sex: Bay Abi Angyl
MARE Bay El Bey++ *Naganka Bad Afas
Color: Najada
GREY Autumn Comet
Shadow *Eter Estokada
Autumn Fersana Dunes.
Spice Rasada